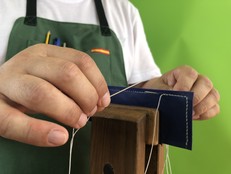 I have devoted most of my life to industrial and building design. For 25 years they have been working with metal, glass, synthetic materials. For many years of management in production and construction, not only psychological fatigue has accumulated, but also an allergy to building dust and materials has appeared.
Having moved to Spain, I was amazed at the work of the Spanish craftsmen with leather. I started by studying the history and traditions of the leather industry. I was fascinated by hand work with minimal equipment. I began to try myself in a new craft for me.
The first steps were quite successful and I was literally drawn into this interesting work. I studied the skills of Spanish tanners, mastering new skills step by step.
Basically, for a designer with a lot of experience, switching to new materials is not that difficult. But working directly with your hands required mastering all production techniques.
Leather is an amazing plastic material. Working with leather is not only a pleasure, but also results in specific products. I am interested in creating new, unparalleled leather products. After all, they are handmade according to my own sketches, they are unique and have no analogues. This is the whole point of individual creativity, which gives positive to me and joy to my customers. After all, hand-made work is not comparable to mass production.
Buy and order my products, they will bring you joy and will last for many years.
All products are made from the finest quality Spanish and Italian leather. Each seam is made by hand with a high guarantee of quality and durability.
_____________________________________________________________________________________________________________________